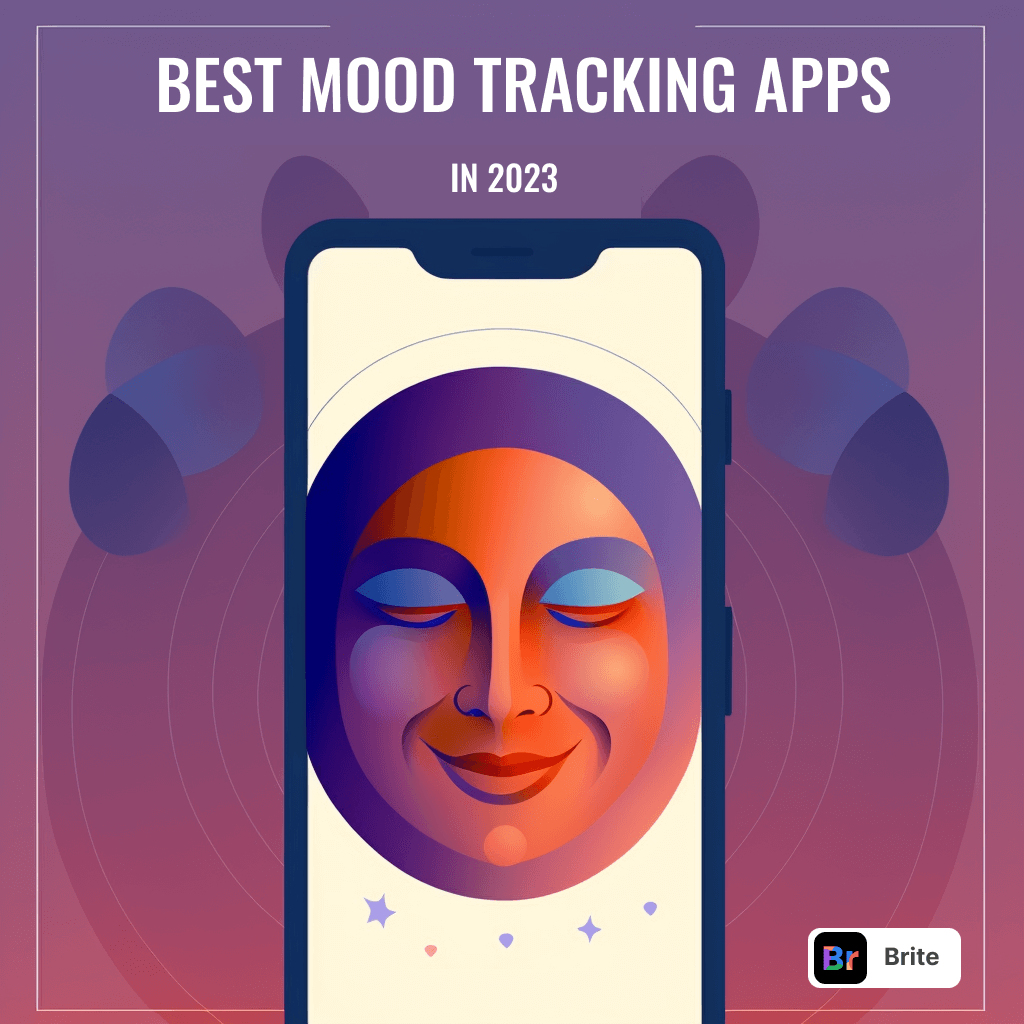 Best Mood Tracker Apps for 2023 (Paid and Free)
How often have you been out of sorts lately? Or do you feel you're on top of the world and want to catch the reason?
Mood trackers apps can help you, which is why they are becoming popular.
Is it hard to choose the best mood tracker that suits you?
Keep reading to find the best mood tracking app for you, complete with features, pricing, and more.
What are mood tracking apps?
Mood tracker apps are mobile apps that help people check their daily emotions.
Mood tracker apps can help you identify triggers, bipolar disorder and negative thought patterns.
The best mood tracker apps do more than simply track your emotions.
They provide lifestyle changes to improve your wellbeing and emotional health.
You can find meditation or relaxation exercises. It's helpful in reducing negative feelings and even panic attacks.
The 12 best mood tracker apps in 2023
Let's get to know the best mood tracker apps to date:
1. Brite Daily Planner
Brite App is more than a productivity tracking app — it's a super app!
With Brite, you can keep a mood diary, track mood changes and get reminders to help you stay on track.
Brite is a great app for a balanced life!
6 must-have Brite features to improve your life:
A. Mood tracker
Use Brite Mood diary to track your daily mood and well-being.
See patterns and identify triggers for negative moods or even bipolar disorder.
If you find that certain foods always leave you feeling bad, you may want to cut them out of your diet.
By taking the time to track and understand your state in Brite App, you can make real lifestyle changes.
B. Habit tracker
When you have an action that increases or worsens your mood, put this action in the Brite habit tracker.
Do you want to start developing healthier habits? Brite habit tracker can help you out!
There are some types of habits:
You can choose healthy habits or create your own! Try it!
C. Goal tracking
Brite's goal tracking tool helps you set and achieve goals, be productive, and feel happier! We recommend you to try it!
It makes it easy to see your progress and results over time.
Keep track of your and your team's or family member's progress!
D. Calendar
The calendar is one of the most important tools for keeping track of our busy lives.
From work deadlines to family birthdays, there's a lot to remember.
And that's where the great calendar app Brite comes in! Brite offers a calendar with different views: day, week, and month. You can easily create events, tasks, and habits and track them on your calendar.
You can also connect Brite to Google Calendar or Apple Calendar, to sync all your events across apps.
Keep track of your upcoming events and never forget an important date with Brite.
Share calendar entries with family members!
E. Notes & Docs
Notes & Docs app is a valuable productivity tool that helps you organise your thoughts and write down plans and important ideas.
Brite helps you to have all your notes and docs in one place.
Notes and docs Brite tool can also help boost your mood. It's easy to access your notes and documents from anywhere!
Keep calm! All important docs are at hand in one app, across all your devices.
F. To-do lists
A to-do list in Brite is a simple but effective productivity tool.
By keeping track of tasks in one place, it helps to ensure that nothing falls through the cracks.
Brite offers powerful task management features that will help you become more organised and less stressed with all the things you need to do, covered in one app.
You can use different difficulty levels and priorities.
Don't worry! You'll always get a notification!
Brite App pros
20+ productivity tools you need for a productive life in one place
A self-adjusting schedule view where you can add widgets that you need
Smart to-do lists with choice of tags, priorities and notifications
The best project creation for work and personal goals
The opportunity to share notes & docs with your colleagues, friends and family members
Convenient calendar syncs in real-time with Google, Outlook and Apple
70+ built-in habits and the opportunity to create your own
Comfortable collaboration with colleagues and friends
Fast and productive work both on mobile and desktop devices
Reliable tool for budget management
Fashionable, modern and unobtrusive design
Brite Pricing
Brite has a free plan and a Pro plan.
The Pro plan is $4/month or $39.99/year. Brite offers a free trial for Pro Plan.
2.Smiling Mind
Smiling Mind App helps you improve your mental health and learn to cope with mood swings.
Will your mind "smile" with this app?
Smiling Mind key features
Use calendar to track your meditation practice
Use tracking tools to keep mood logs and track moods
Listen to 300+ free meditations to manage anxiety and other negative emotions
Get reminders and always remember about your mental health
Smiling Mind pros
Suitable for people of all ages
Offers a variety of guided and unguided meditation practices
Tools to track your progress and set goals
Offers a special program designed for children aged 7-17 years.
Smiling Mind drawbacks
This mood tracker app is only available in English
Unless you upgrade to a premium subscription, you won't be able to access some of the features
The app can be challenging to use for beginners
Smiling Mind pricing
Smiling Mind offers a free version of the app with some limited features. To unlock all the features, you need to subscribe to the premium version, which costs $11.99/month or $95.88/year
3. Daylio
Daylio App is a mood tracking tool that allows you to track your moods and activities.
Let's find out more about this app:
Daylio key features
Track your moods with the help of the emoji scale
Add activities and notes to your mood log
Get insights into your mood patterns with the help of detailed statistics
Set goals and challenges to motivate yourself
Daylio pros
Easy to use even for beginners
Take part in interesting and motivational challenges
Daylio drawbacks
To access all features, upgrade to the premium version of the app.
Daylio pricing
Daylio offers a free version of the app with some limited features.
To unlock all the features, you need to subscribe to the premium version, which costs $3.99/month or $19.99/year.
4. VOS
VOS mood tracker app refers to a mental health apps. It helps users to write journal entries and take control of different moods.
Will the app help you? Let's find out!
VOS key features
A built-in community where users can share their experiences and support others
Track your mood disorders in a convenient mood log
Watch your wellbeing grow over the time
Pick the tools that work for you
VOS pros
Offers a built-in community for support
Has a convenient mood log to track your progress
Provides different tools to choose from
Available in App Store and Google Play
VOS drawbacks
The app is only available in English
Some features are locked behind a premium subscription
The app might be challenging to use for beginners
VOS pricing
VOS offers a free version of the app with some limited features and paid pro plan
5. Bearable
Bearable is a daily mood tracker app. This app tracks your well-being and mental health issues.
Also, the team hopes that the application will help you to make positive changes in your life.
Is a "bear" going to be able to help you cope with mental illnesses?
Bearable key features
Identify mood factors and sleep, food, and meditation patterns
Track your state throughout the day to reveal early symptoms of mental illness
Offers a synchronization feature, which allows you to sync your steps, heart rate etc
Bearable pros
Track your mood, activities, food diary and medication
Improve your mental health with a journal entry
Set alerts to help you remember to log your mood, take medications, and more
Export copies of your mood charts to email or print
Bearable drawbacks
Some premium features are only available in the pro plan
The app offers so many options for tracking that it can feel overwhelming
Bearable pricing
Bearable has a free trial and 3 subscription plans:
1 month for $9.99/mo, 6 months for $54.99 (billed as $8.99/mo), or 12 months for $99.99 (billed as $7.49/mo)
6. Youper
Mood tracker app Youper can replace your therapy buddy.
Is it true? Let's check it!
Youper key features
Analyze your thoughts and find out valuable insights
Set goals to make great lifestyle changes and improve your social life
Reflect and organize your thoughts in a private daily journal
Track your progress and feelings of anxiety, depression and other symptoms
Youper pros
Easy and convenient navigation
Offers a wide range of features
Helpful and comprehensive insights
Youper drawbacks
Only available in English
There is no free version of the app
Youper pricing
Youper offers a free trial and 3 subscription plans:
1 month for $11.99/mo, 6 months for $71.99 (billed as $9.99/mo), or 12 months for $119.99 (billed as $8.33/mo
7. Moodistory
The Moodistory App is one of the mood tracking apps. It allows users to track their different moods and identify patterns.
Does this tracker app have such a positive effect on your negative thoughts?
Moodistory key features
Creating PDF files to have your diary at hand
Review printable reports of your mood at any time
Moodistory pros
Helps you to identify patterns of your bad moods
Allows you to customize your mood scale
+180 activities and events, you don't need to write a word
Moodistory drawbacks
Moodistory pricing
Price is 1 month for $4.99
8. eMoods
eMoods is one of mood tracking apps that helps you gain insights into your moods.
What benefits does the app bring?
eMoods key features
Track your person's mood and symptoms
At the end of each month, email your therapy buddy a printable PDF report
See your symptoms and triggers play out over time with in-app graphs and printable charts
There are many emojis and other languages
eMoods pros
Easy to understand interface
Timely reminders that will always help you stay on track
The opportunity to share your data with others
The presence of dark mode
eMoods drawbacks
The full version requires a subscription
eMoods pricing
This tracking app like many other apps offers a free level
There are also Enhanced and Pro level
9.Mood Mission
Mood Mission is a mood tracker that allows you to record your state several times throughout the day.
Is it actually true? Let's see together
Mood Mission key features
Achieve goals with personalized missions
Learn about your mood with detailed charts and analysis
Get support from the community in the form of encouragement and advice
Track your progress over time to see how you're doing
Mood Mission pros
Allows you to record your mood several times throughout the day
The app will generate useful information about your mood patterns
You can set goals and missions to improve your mood
There is a community forum where you can connect with other people
Mood Mission drawbacks
The app might be a little tricky to get around
Mood Mission pricing
The app is free to download and use, but there are some in-app purchases available.
10.Feelmo App
Feelmo is a kind of mood trackers that helps users cope with negative moods and external factors.
How will you feel with Feelmo App?
Feelmo key features
Understand how different symptoms you have with the help of Feelmo tools
Find relief from troubling feelings and even posttraumatic stress disorder
Feel less alone, stressed, and exhausted with the app's help
Learn positive psychology
Feelmo pros
Identify your feeling with a diary
Built-in guided breathing exercises
Track your history and identify patterns in the calendar
Feelmo pricing
Feelmo is a free app, but there are some in-app purchases available.
11.Nuna App
Nuna gives you the ability to see things more positively and effectively.
Nuna key features
24/7 mobile chatbot where you can share all your emotions
Track your progress with insights
Tools to help you get through the tough times
Nuna pros
24/7 online chat to share your emotions
Gratitude journal to build a positive mindset
Nuna pricing
Nuna is a free app, but there are some in-app purchases available.
12. Wysa
Wysa unlike other apps is an AI chatbot that makes you feel heard.
Wysa key features
A chatbot is always there for you
You don't need to worry about storing your data
Wysa pros
The app is easy to use and navigate
The CBT exercises are simple and won't take more than 10 minutes
You can remain anonymous while using it
Wysa cons
The app offers mental health coaching only through text messaging
Wysa pricing
Wysa offers two auto-renewing subscription types for access to a coach and/or tools
Wysa Premium Plus - $99.99 per month (Coach + Tools)
App's premium version - $99.99 per year (Tools)
Choose the Best Mood Tracker App to boost your Mental Health
It is crucial to find a mood tracker app that works well for you and meets all your needs.
Some people with bipolar disorders find it helpful to track their daily moods. They can see patterns and make better mental health.
There are many emotion apps that can track mood data, but Brite is a perfect choice.
Brite is the best of all mood tracker apps! It allows you to track even symptoms related to bipolar disorder.
An unforgettable experience of how your life is changing every day! You'll manage your anxiety, and negative emotions and feel great!
So Get Brite App for free today to never feel down!
FAQ
Is the mood tracking app helpful?
Yes, mood tracker apps are very helpful in managing your mental health.
They can help you to identify external factors that may be affecting your moods and thoughts. The app will also provide tips and resources on how to cope with adverse emotions like anxiety.
How often is it necessary to track mood?
It depends on your individual situation. Apps suggest to track your mood daily or weekly, depending on how often you have symptoms. If you're struggling with anxiety or stress, it may help to track your mood several times a day. But, if you are generally feeling okay, once a day should suffice.
Can mood tracking apps help people with bipolar disorder?
Yes, mood tracking apps can be very helpful for people with bipolar disorder. Manage your bipolar disorder with the help of a specialist and a mood tracker app.
They will help you to recognize changing moods and create strategies to cope with them. This way, you'll be able to identify patterns in your disorder, which can help prevent and manage episodes of depression or mania.